Although vaccines are being rolled out to various countries, the power of the epidemic is still difficult to control. Not only in European and American countries, but also in some Southeast Asian regions, the virus is spreading at an alarming rate. India has surpassed Brazil and once again became the second largest country in the world. The United States has the second largest number of infected people. Under such circumstances, some orders from Southeast Asia are still at high risk of being cancelled.
Recently, another 2 million meter order was urgently stopped! "A customer ordered 2 million meters of CEY gray fabric. He ordered three factory machines and opened nearly 150 of them. Due to the epidemic, they were urgently stopped. It can't be started now, and it won't work even if it doesn't." A person from Shengze area The textile boss said.
Half of April has passed, but the market still has not yet turned. , except for the short peak season when construction just started, the peak season seems to be getting further and further away from everyone. According to the current situation, before the epidemic is completely eliminated, the foreign trade situation in both the European and American markets and the Southeast Asian market will be very difficult. Returning to normal levels, the foreign trade market is still full of difficulties!
Bad signal: Textile exports in March were far less than clothing exports
According to data released by the General Administration of Customs of China on April 13, textile and clothing exports achieved rapid growth in the first quarter, with clothing exports growing faster than textiles. From January to March 2021, my country's exports of textile yarns, fabrics and products were US$31.8053 billion, a year-on-year increase of 40.3%; from January to March, my country's exports of clothing and clothing accessories were US$33.2953 billion, a year-on-year increase of 47.7%.
On a monthly basis, exports of textile yarns, fabrics and products from January to February 2021 were US$22.134 billion, a year-on-year increase of 60.8%, and exports of clothing and clothing accessories reached US$24.054 billion, a year-on-year increase of 50%. In March 2021, textile and clothing exports were US$18.92 billion, an increase of 22.6%, of which textile exports were US$9.67 billion, an increase of 8.4%, and clothing exports were US$9.25 billion, an increase of 42.1%.
China's textile and apparel export data in March 2021 (unit: billion US dollars)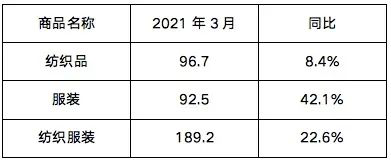 But from According to the single-month export data in March, textile exports grew by only 8.4%, which was far less than the 42.1% growth of clothing exports. The possible reason is that clothing orders outflowed from China are returning to China. As the epidemic situation in Bangladesh, Cambodia and other countries is still severe, the domestic situation in Myanmar is turbulent. The order execution capabilities of these countries have been greatly reduced. Domestic clothing companies have taken on some orders. However, the demand for textiles such as yarns and fabrics imported in large quantities by these countries in previous years has also fallen sharply, resulting in the growth rate of textile exports being much lower than that of clothing.
The differentiation between raw materials and gray fabrics is serious
The demand for textile and clothing is not as bright as the raw materials.
Although the textile market performed sluggishly in March, most varieties still maintained an increase compared with the average price in February. In late February, due to the impact of macroeconomic stimulation and improving market expectations, raw materials and yarn products experienced a rapid rise. In March, the market returned to fundamentals, and downstream demand was difficult to see. The market had no choice but to take a longer time to digest the early stage. The rate of increase therefore shows a situation of rapid rise and slow fall. The main limiting factors include the following aspects:
First, foreign epidemics are recurring. Vaccine problems occur frequently in Europe, with many countries suspending vaccinations. France, Germany, the United Kingdom, Italy and other countries announced blockade measures again in March. In early April, Bangladesh also announced a seven-day nationwide lockdown due to the high incidence of the epidemic. Affected by the epidemic, the restart of the European economy has been delayed again, and the recovery of textile and apparel consumption is bound to be affected.
Second, the Xinjiang cotton incident. After the Sino-U.S. dialogue, the collateral reactions became increasingly apparent. The United States joined forces with Europe, Australia, Canada and other countries to impose sanctions on the Xinjiang region. It was revealed that many foreign clothing brands banned the use of Xinjiang cotton. Domestic consumers' patriotic enthusiasm was ignited and they launched a boycott of foreign brands. Although there has been a craze for Xinjiang cotton in a short period of time, the EU and the United States are the two largest markets for China's textile exports, and their influence cannot be underestimated. Many domestic textile companies have revealed that brand owners require a certificate of origin and refuse to use Xinjiang cotton. The companies can only increase cotton imports and reduce domestic cotton purchases.
Third, supply and demand imbalance. In February, traders took the lead in smelling business opportunities, hoarding goods and showing a reluctance to sell, making it difficult to find yarn downstream and causing market prices to rise. However, the real downstream demand did not recover significantly, and follow-up orders were not accepted well, causing yarn product prices to fall all the way in March. At this time, traders also began to sell goods, the supply on the market surged, and traders had a certain price advantage compared with manufacturers, manufacturers' orders were further compressed, and inventories began to rise.
It can also be seen from the gauze output that the yarn and gray fabric are seriously differentiated. According to statistics from the China Cotton Industry Association, the yarn output of enterprises above designated size nationwide from January to February was 3.9877 million tons, a year-on-year increase of 45%, which was basically the same as the same period in 2019. Among them, 2.3663 million tons of cotton yarn, a year-on-year increase of 44.72%, a year-on-year increase of 2.89%, 641,000 tons of cotton blended yarn, a year-on-year increase of 36.91%, a year-on-year decrease of 18.08%, and chemical fiber yarn 980,400 tons, a year-on-year increase of 55.82%. An increase of 4.40% compared with 2019. Judging from the yarn output, there has been a substantial increase compared with last year. However, compared with 2019, cotton yarn and chemical fiber yarn increased slightly, while cotton blended yarn decreased significantly. Looking back at cloth production, cloth production from January to February was 4.988 billion meters, a year-on-year increase of only 24.12%, and a decrease of 23.90% from the same period in 2019. All subdivided varieties also experienced a decline of more than 20% compared with 2019. Compared with the growth rate of yarn production, cloth production obviously cannot keep up with the pace. This shows that the demand of the entire textile and garment industry is not as outstanding as that of yarn products. Downstream sales are not smooth, and product prices are naturally all the way. go lower.
Textile companies generally express a lack of confidence in the market outlook. At present, the epidemic situation in many overseas countries is still recurring, and foreign trade orders are improving slowly. At the same time, the market performance in the peak seasons of March and April is so average, and then the off-season orders may further decrease. </p