Recently, the COVID-19 epidemic situation in India has been escalating, which has directly affected the air and shipping markets. Not only has shipping prices increased, but it has even become difficult to find a cabin. What is the specific situation?
01 It is difficult to find a cabin on the Indian route and the cabin is full and the cabin is dumped
Si Jiamei is the person in charge of a shipping forwarding company. She told reporters that in the second quarter of this year, the space on Southeast Asian routes was particularly tight, especially when a large-scale COVID-19 epidemic broke out in India in April. Now, routes from Guangzhou and Shenzhen to India basically have to book space one week in advance.
She said that before the epidemic, 50% of the transportation capacity relied on the belly hold loading of passenger planes. Because of the epidemic, passenger planes were canceled , so it lost the ability to load cargo in the belly hold. Now with all-cargo aircraft, it is indeed difficult to find a cabin.
Li Ying, general manager of an aviation service company in Guangzhou, works for a company that is mainly engaged in cargo charter services. The number of customers booking cargo flights to India has increased significantly recently. In order to cope with the surge in demand, the company doubled its capacity on the India-Pakistan route and added a new route in June, exclusively to Delhi, India, for a period of one year.
The reporter learned that oxygen concentrators and other anti-epidemic materials are currently in short supply in India, and the export volume of anti-epidemic items has also surged. .
Wang Weiwen's company specializes in cargo agency services for Southeast Asian shipping routes. He told reporters that since the beginning of this year, shipping prices for Southeast Asian routes have been rising. Especially in April and May, with the sharp increase in freight volume, There is even a phenomenon of empty cabins and dumping of cargo on Indian routes. The so-called "dumping containers" means that when the space on a voyage is full, the shipping company has no choice but to hold the containers until the next or several voyages.
Wang Weiwen said that you may not be able to get a cabin if you have money, and even if you have a cabin, you may not be guaranteed to get a locker. Once you get on board, the container may be dumped in a matter of minutes. With the outbreak of the local epidemic in India, many boxes are stranded abroad, and there are basically no empty boxes coming back, leading to a situation in which supply exceeds demand.
02 Route freight rates doubled in half a month, and the Indian epidemic pushed up route freight rates
Reporters are investigating It is understood that the space on the routes from Guangzhou and Shenzhen to India and Pakistan continues to be tight. Air freight prices have increased by more than 100% in half a month, and sea freight prices have also increased, with an increase of more than 30%.
Starting from late April this year, especially after May, the price of the India-Pakistan route in the Guangzhou-Shenzhen area has changed significantly, and the price has reached a record high. Si Jiamei, the person in charge of the freight forwarding company, told reporters that the main reason for the change was the surge in shipments.
She said that since March last year, freight rates throughout Southeast Asia, including India, have roughly tripled. Since the outbreak of the epidemic in India in April this year, the price on this route in India has increased by about 3 to 4 times. There was a price peak in May. From the original price of about 20 yuan per kilogram, it has now risen to 40 yuan per kilogram. price around.
In order to cope with the surge in market demand, Li Ying, general manager of an aviation service company in Guangzhou, has recently been busy deploying more cargo planes to fly to India and Pakistan. She said that the current India-Pakistan route is quoted once a day. , many cargo owners no longer look at prices and book space first to ensure space. After April 20th, prices in India and Pakistan are more difficult to control. The price is one per day, which is called "seafood price" in the industry. If you don't want the cabin, someone will take it immediately. The peak price is basically around 60 yuan, which is three times the price before the epidemic, or even higher.
The price of sea transportation is also rising. On May 21, the China Export Container Comprehensive Freight Index released by the Shanghai Freight Exchange was 2216.63 points, an increase of 3.9% from last week. Shanghai's export container comprehensive freight index was 3432.50 points, an increase of 2.7% from the previous period.
Wang Weiwen, deputy general manager of an international freight forwarding company in Guangzhou, said that a wave of growth began at the end of April, and half of May It reached a growth peak of 30%-50% in January. The original price per container was more than 2,000 US dollars, and it rose to the peak of more than 4,000 US dollars per container.
03 Rising costs, insufficient shipping capacity, and affected shipping time
It is difficult to find a cabin on Indian routes, and prices continue to rise, then How long can this price increase last? How will the upstream and downstream enterprises in the relevant industrial chain be affected? Continue to look at the reporter's investigation.
Peng Lichang is the person in charge of a cross-border logistics company in Guangzhou. When the reporter saw her, she was counting orders sent to Southeast Asia. She told the reporter , the volume of express delivery to India has increased significantly in recent months, but for her it is a mixed blessing. On one side is the rapid growth of orders, and on the other side is the rapid increase in costs.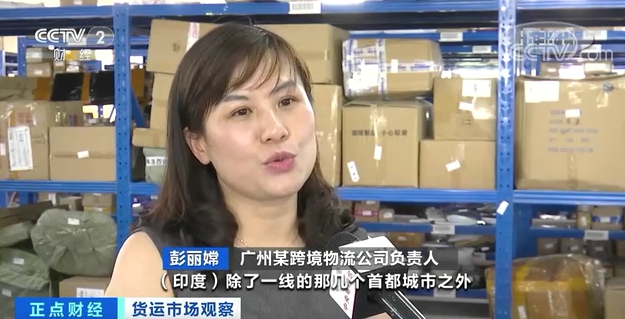 Peng Lichang said that freight prices have increased by 30%-50% this year, which is their cost. In addition to a few first-tier capital cities in India, logistics in other cities Basically, you can only pick it up by yourself. There are obvious delays in customs clearance and local delivery, so there is no way to guarantee the timeliness.
The reporter saw at the cargo terminal of Guangzhou Baiyun Airport that, There are piles of goods shipped to all over the world. The goods in front of you are waiting for security inspection to be sent to Delhi, India. Zhang Changwei is the person in charge of the South China region of an international air transport company. He told reporters that the goods previously sent to India basically took one day< /p